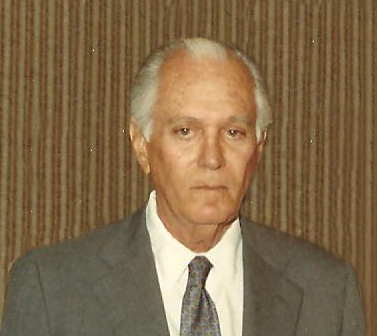 Agri-Energy Roundtable
A Tribute to Gustavo de los Reyes:
Agro-Entrepreneurial Diplomat for Food Security
(1913-2014)
by
Nicholas E. Hollis
All Rights Reserved
Thirty years ago an international mission (24 private sector representatives from six countries) traveled to Henan Province in central China for exploratory talks and tours on agro-industrial and raw materials projects. The unusual program, led by legendary cattleman Gustavo de los Reyes (King Ranch Venezuela), had been carefully negotiated following an invitation from provincial officials to the Agri-Energy Roundtable (AER), the sponsoring non-governmental organization. The nine-day mission, including conferences and receptions at high levels in Beijing and Zhengzhou (Henan's capital), represented an important opening to the world for Henan, China's bread-basket and a major energy-producer.
At its conclusion, after an obligatory visit to the Great Wall, the mission was considered a significant success on many levels and won praise from participating international companies including Ralston-Purina, Oscar Mayer Foods, FMC, Atlantic Richfield, HVA Holland, Buhler Brothers, Transports Frigorifiques Europeens (TFE), Hawaiian Agronomics, Wagner Mining, and others.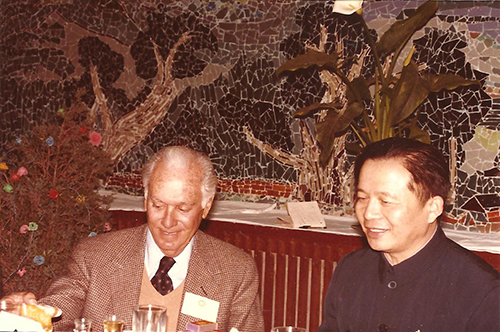 Agri-Energy Roundtable
OFFICIAL AUDIENCE -- Gustavo de los Reyes celebrates mission success with Henan Governor He Zhukang at palace in Zhengzhou (March 1984).
Despite the fanfare, the mission probably would have been lost to history and eclipsed by the explosive Chinese economic success story which unfolded in the decades since. But as the delegates were flying home on March 25, 1984, the Associated Press ran a wire story featuring Gustavo's offer of artificial insemination to improve China's cattle herds. This news went worldwide, gaining coverage especially in Cuba and Venezuela (where Gustavo managed a 35,000-head cattle ranch near Valencia. With more than a billion people to feed (at that time) and limited arable/grasslands, Gustavo wisely calculated the challenges facing China's quest for food security. Yet in his remarks was the knowledge of history, wisdom, and humanity of spirit which enthralled his hosts and his delegates alike. Two weeks later Gustavo's pragmatic business side delivered when 200 doses of bull semen arrived via refrigerated air freight to China's vice minister of agriculture in Beijing.
What few knew or realized then was Gustavo's outstanding diplomatic skills had been honed many years before over the hard anvil of Fidel Castro's notorious La Cabana prison where De los Reyes had been locked under death sentence for defying the dictator. Abandoned and betrayed by the U.S. government, Gustavo's miraculous survival and escape -- sprung by his loyal friend, Bob Kleberg of King Ranch – led him on a path to Venezuela where Gustavo organized and built up the Rio Yaracuy Ranch (largely financed by Kleberg) from scratch. At a stage in life when many men would have retired, Gustavo created a profitable grassland ranch on the edge of jungle. He knew a bit about hard work, animal husbandry, and land stewardship, but it was his abiding sense of personal freedom, humanity, and history which set him apart.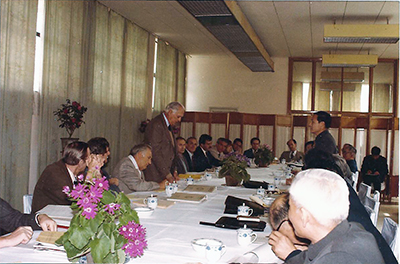 Agri-Energy Roundtable
MISSION LEADER -- Gustavo de los Reyes opens plenary session during three days of talks and tours in Zhengzhou, Henan Province (March 1984).
When we climbed down off that train at Zhengzhou, tired after a ten-hour overnight ride from Beijing, we all felt privileged to be in his presence. When some delegates complained, Gustavo joked about his long rides in the saddle as a cowboy in Texas. His upbeat mood and excitement never wavered, yet he was a man of seventy years at that time.
After China, we traveled together in many countries. Doors opened at the sound of his name. Gustavo went on to lead other timely international missions, most notably in Hungary (October 1989), arriving in Budapest with revolution in the air on the day the crowds tore down Lenin's statue, and later in Poland (September 1990).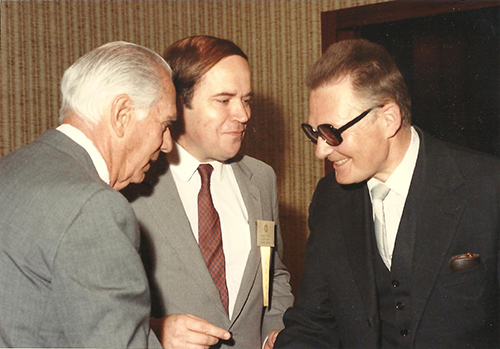 Agri-Energy Roundtable
FREEDOM RINGS -- Gustavo de los Reyes and Nicholas Hollis greet Witold Trzechiakowski of Polish Agricultural Foundation and later Minister of Justice in Poland's Solidarity Government (June 1985).
Gustavo was proud of his horsemanship – a veteran polo player in his youth. Yet, this was no ordinary cowboy. He was the scion of a wealthy Cuban family with blood lines to royalty in Spain and England. He was trilingual, educated in the United States (Georgetown University), and trained as a doctor at the University of Havana Medical School. In addition to cattle, he owned and operated a sugar cane plantation and still found time to participate regularly in our non-profit campaign to advance food security solutions through the AER network. He was its longest serving director.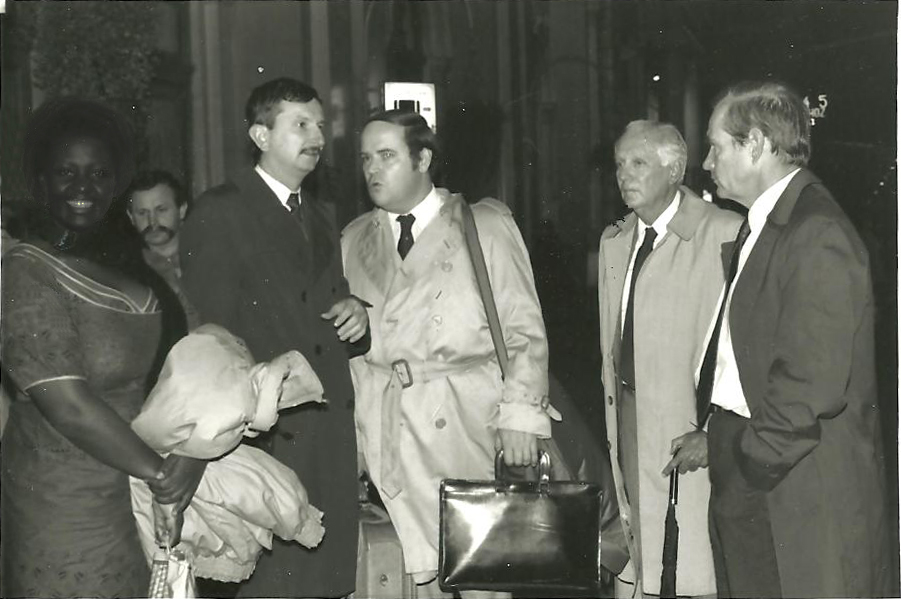 Agri-Energy Roundtable (October 1989)
ORIENT EXPRESS--AER mission delegates arrive at Budapest from Vienna. L-R: Dr. Speciosa Wandira-Kazibwe, (later Uganda vice president and special envoy to U.N. Secretary-General); Hungarian official Lazlo Vadja; AER executive director Nicholas Hollis; AER mission leader Gustavo de los Reyes; and Robert Ross (LAAD Consortium).
It is therefore particularly poignant that Gustavo left this earth quietly earlier this week (March 17) in Miami. He had crossed the "centurion" threshold a few months ago, dancing with the ladies at the Riviera Club in Coral Gables surrounded by his children, grandchildren, and great-grandchildren.
At a time when freedom and human spirit are being sorely tested in such far flung arenas as Ukraine, Afghanistan, Syria and Venezuela, Gustavo's life symbolizes a triumph of spirit and action against overwhelming odds – a lesson providing inspiration for us all.
Gustavo de los Reyes believed as the ancient Greeks that lucky mortals were targeted and punished by jealous gods. "So I guess I had it coming," he would chuckle.
I was truly privileged to have ridden with him.
Rest well, Old Road Warrior. Rest well-earned.
Posted: March 27, 2014
Nicholas E. Hollis, President
The Agribusiness Council
Washington DC
Tel: (202) 296-4563
Email: info@agribusinesscouncil.org
SUGGESTED READINGS:
"Imprisoned by Castro" by Gustavo de los Reyes: Reader's Digest (May 1965), pp. 114-119.
"Bob Kleberg: A Worldwide Sea of Grass/King Ranch" by John Cypher, Jr.
"The Last Empire" by William Broyles: Texas Monthly (October 1980).
"The Great Game in Cuba: How the CIA Sabotaged Its Own Plot to Unseat Fidel Castro" by Joan Mellen of Temple University. Skyhorse Publishing (2013).
"Cien Anos" by Gustavo de los Reyes. CreateSpace Independent Publishing (November 2013).
"The Importance of Tropical Grasslands in Relation to the Expected Food Crisis of the World" by Gustavo de los Reyes. Agri-Energy Roundtable Conference Proceedings (1982).
The Agribusiness Council is a nonprofit, tax-exempt organization affiliated
with Agri-Energy Roundtable. This article may be reprinted with attribution.